Flexible Teaching & Learning Spaces
Project:
Project video:
Brief
Nottingham Trent University is a modern, forward thinking organisation with a vision and strategy to create the University of the future. Their vision is to reimagine the University of the Future through 6 key strategic themes: creating opportunity, valuing ideas, enriching society, embracing sustainability, connecting globally and empowering people.

"We bring brilliant minds together to crack complex issues"
"Problems aren't one dimensional. By collaborating we can find answers"
"The big challenges that our world faces are complex. We are working to solve them by sharing our ideas, expertise and technology across the University and with our partners".
The above are just 3 example messages embedded within the entire team at NTU and which came across very clear when we were honoured to work in partnership in 2020 to deliver a flagship project, in what turned out to be a quite remarkable achievement for all parties.
In early 2020, NTU had the vision and plans to create 40 new learning spaces for more students. Then when the Pandemic hit the UK in early 2020 it quickly became clear that more space was required to allow for social distancing whilst maintaining the student experience on campus. With government COVID guidance changing, the University needed to implement an urgent plan to allow for new styles of teaching.
Graeme Bagley, Teaching Space Designer from the Universities Digital Technologies division was assigned to lead the AV project for the University. Graeme had a vision to develop a flexible environment within each space utilising large format displays and the latest AV technologies. It was essential each system had the flexibility for future enhancements and change in orientation or use. Roche AV have worked with NTU on a number of occasions over 10 years to complete a high number of complex AV projects. This has allowed our in house teams of technology enthusiasts to demonstrate continued quality service and support.
In line with our flexible partnership approach, we were incredibly pleased to again be given the opportunity to work with the University to collaborate and undertake this project as an approved supplier on the NEUPC AV framework (AVI20005NE).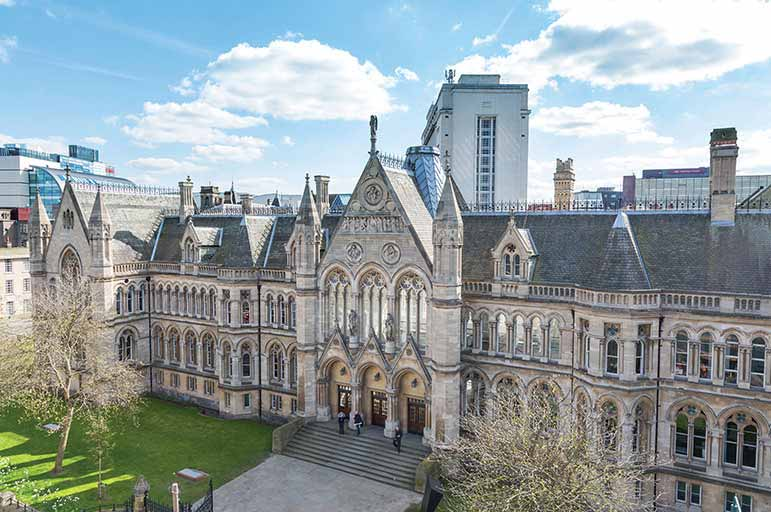 PROJECT TIMELINE:
MID JULY 2020 - Project Research & Development (Pre Order)
LATE AUGUST 2020 - Contract Award to Roche Audio Visual
2 Week Period - Procurement, Manufacturing, Off site Programming & Configuration
2 Week Period - On site installation, Distribution, Commissioning & Testing
MID SEPTEMBER 2020 - Project Completed and Signed Off
Research & Product Choice
In line with the Universities vision, Roche AV's experienced commercial team researched the market for suitable large format displays, soundbars and integrated AV stands. The University has a comprehensive number of spaces utilising Extron Control and Switching equipment so given the flexibility required it was the perfect opportunity to consider the latest Extron Pro AV over IP solution (NAV).

The Extron NAV system was new to market challenging the boundaries of technology so given the potential scope it was essential to carry out urgent review and testing. NTU, Extron and Roche AV worked in partnership to urgently deliver sample units for network testing, programming and configuration.

Roche AV allocated an Extron Certified specialist to support and test each solution off site whilst Graeme (NTU) also tested a Decoder & Encoder on the University network. In the background, the Roche AV commercial team continued to assess all display and stand options from global leading manufacturers. Roche AV and NTU continued to collaborate in order to find an urgent solution, which was aesthetically pleasing, quality and offered value within budget.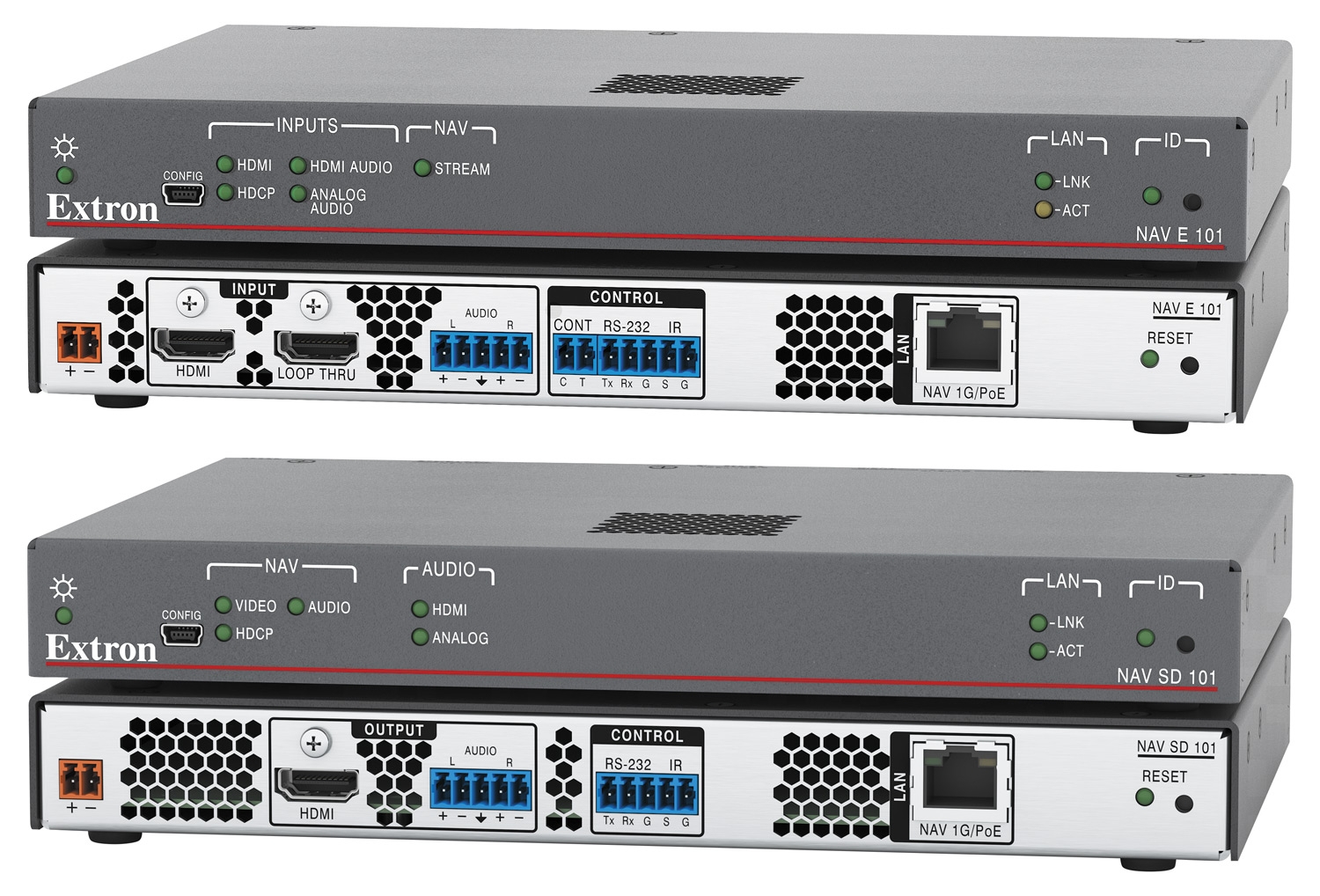 It was quickly identified that the Extron NAV, switching and control solutions would be ideal
providing value could be achieved. Roche AV worked with LG to offer a high quality display with a comprehensive 3 year warranty at exceptional value, leaving just the AV stand to resolve within budget. As time was of the essence and the stand was, integral to every solution it was imperative every option was urgently reviewed. Roche AV collaborated with Fabriweld, a local Nottingham based fabricator, to design a new stand
which was to offer the flexible housing of AV kit whilst retaining value and quality.


Designs were shared with the entire team at NTU and Roche. A sample was quickly manufactured with a complete system being integrated on site at NTU by Roche. This included all items to provide a true feel for
the final solution to reduce risk later.
This entire R&D stage was completed within a pressurised 2-week period, with a collaborative approach and
experience essential to its success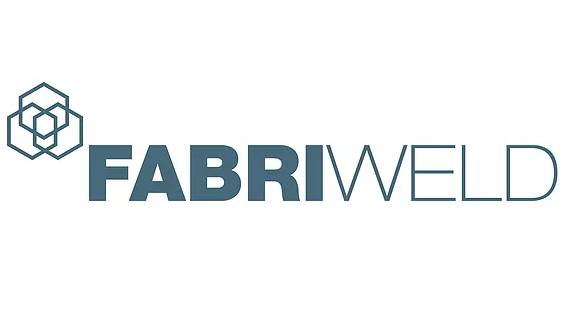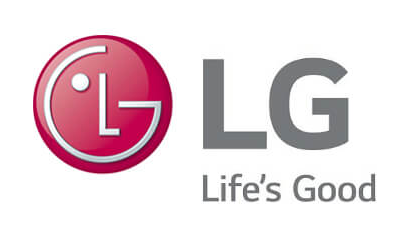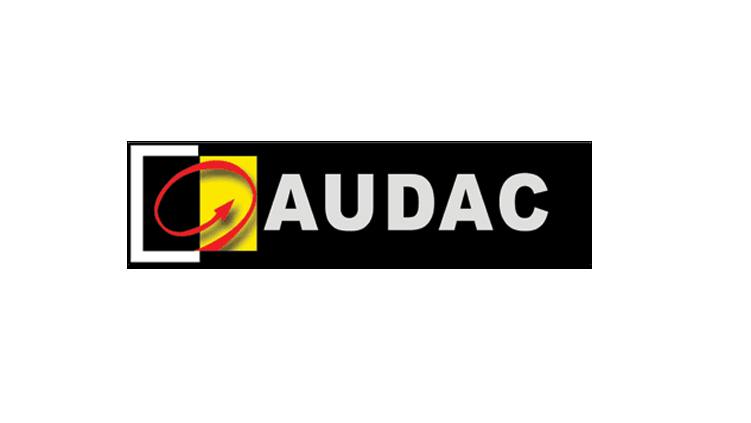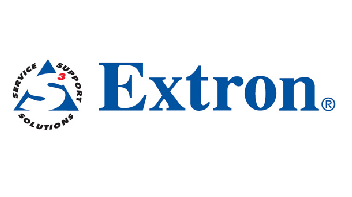 Service & Delivery
The challenge was set to complete 110 flexible AV over IP systems by the start of term in September over three campuses and a number of buildings. On receipt of project acceptance urgent orders were placed with all manufacturers, again with only a 4-week period for manufacturing, delivery, integration, testing and commissioning.

Both Roche AV and NTU knew the challenge we had been set was immense, especially considering COVID-19 restrictions but we were all determined to be successful. Our experience, collaborative flexible approach and support for each other was key to its success.
Taking in to consideration manufacturing and logistics it quickly became apparent that a 2-week window for final integration on site would be available for completion. Roche AV and NTU collaborated to streamline any advance works, this included a dedicated on site planning, storage & integration area. This allowed Roche AV to coordinate advance delivery of the displays, switching and consumable equipment. All systems were
allocated and configured in advance of distribution, stand assembly and integration.

This stage was completed successfully with all components allocated and configured to the 110 spaces ready for integration. A phased building by building of stands was implemented with one team of Roche AV's engineering department collecting and assembling stands in advance of a second integration team who would integrate all equipment switching & distribution equipment securely within the discreet equipment basket housed in the rear of the stand.
This stage was closely followed by a commissioning and programming team to carry out a live quality, system & network check ready for handover. An incredibly well thought out and planned installation phase was essential in order for Roche and NTU to successfully create a sufficient commissioning & handover period.


A phased building-by-building schedule was created, updated and shared daily ensuring transparency between all parties. Every system was tested and completed on time without fail ready for teaching. Roche AV also completed a final visual check and clean, whilst removing all packaging and waste from site, returning it back to Roche for recycling or re use in line with our ISO140001:2015 environmental policy.


Outcome
In all, 110 Primary and Secondary AV Stands were built and commissioned over summer 2020 break. All Stands feature an LG 65" flat panel display and Audac soundbar. Primary Stands originate the AV content, which can be viewed locally on their own displays and distributed over the network for viewing on up to five associated Secondary Stands.
Each Primary Stand can select HDMI program content from a built-in PC or external sources. A Miracast™ receiver and Apple TV allow external content to be shared to the Primary Stand from BYOD devices via Wi-Fi, and an HDMI input jack allows external program sources to plug-in via a wired connection. A SW HD 4K switcher in each Primary Stand selects among the sources. The selected HDMI content is fed to a NAV E 101 Pro AV over IP Encoder.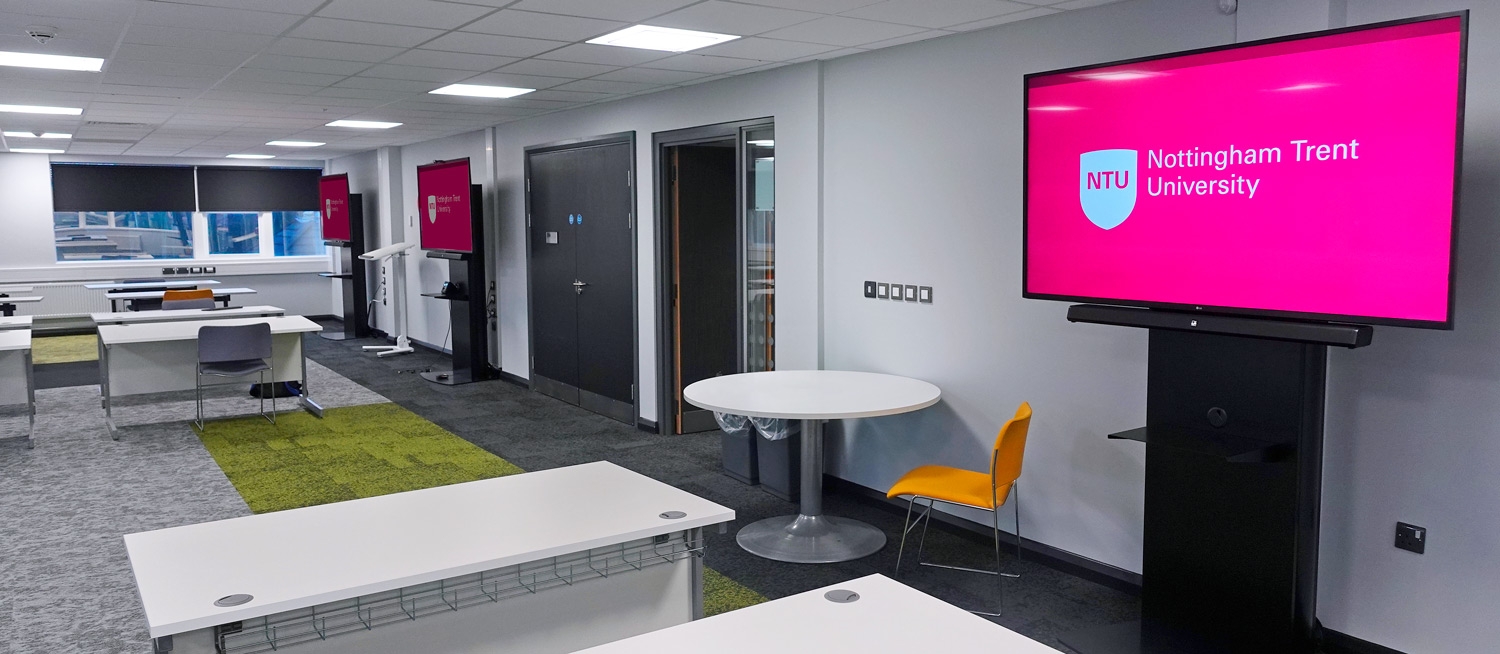 The Encoder passes HDMI to the Primary Stand's display and soundbar. It simultaneously feeds the AV content from the Primary Stand to the associated Secondary Stands through NTU's 1Gbps enterprise network.
The Secondary Stands have a NAV SD 101 Decoder to receive AV content and control from the Primary Stands. The Primary Stands include an IPCP Pro PCS1 control processor and an EBP 100 Button Panel that allow users to select the AV program source, adjust soundbar volume, and turn display power on or off. The user selections apply to both the Primary Stand and the associated Secondary Stands.
The overall outcome is truly remarkable, to complete such a vast wide scale upgrade utilising the latest AV over IP within such a short period is quite breath taking and ground-breaking. To complete a phased upgrade of this scale utilising traditional AV technologies would have taken considerably longer. The results provide the University with 110 enhanced flexible learning systems, which can be utilised, expanded and re-orientated for years to come with ease.
This flagship project was also nominated for "Education Project of the Year" at the AV Awards 2021!
'A massive thank you to Graeme B and NTU for showing trust in Roche to deliver such a flagship project within a challenging period. It is a true example of what can be achieved when working in such close partnership with a determination to succeed without compromise' - Peter Midgley, Sales Director, Roche AV
'Timely delivery, established partnerships and strong support were key factors when selecting the system integrator and suppliers of system components' - Graeme Bagley, NTU